Hotel Cat
Downlands Farm, Linnies Lane, Sway, New Forest, Hampshire SO41 6ES
Phone Jackie Ferrier on 01590 681117
please mention you found us on BoardingCatteries.org

www.hotelcat.co.uk

Welcome to Hotel Cat

Downlands Farm, Linnies Lane, Sway, New Forest, Hampshire SO41 6ES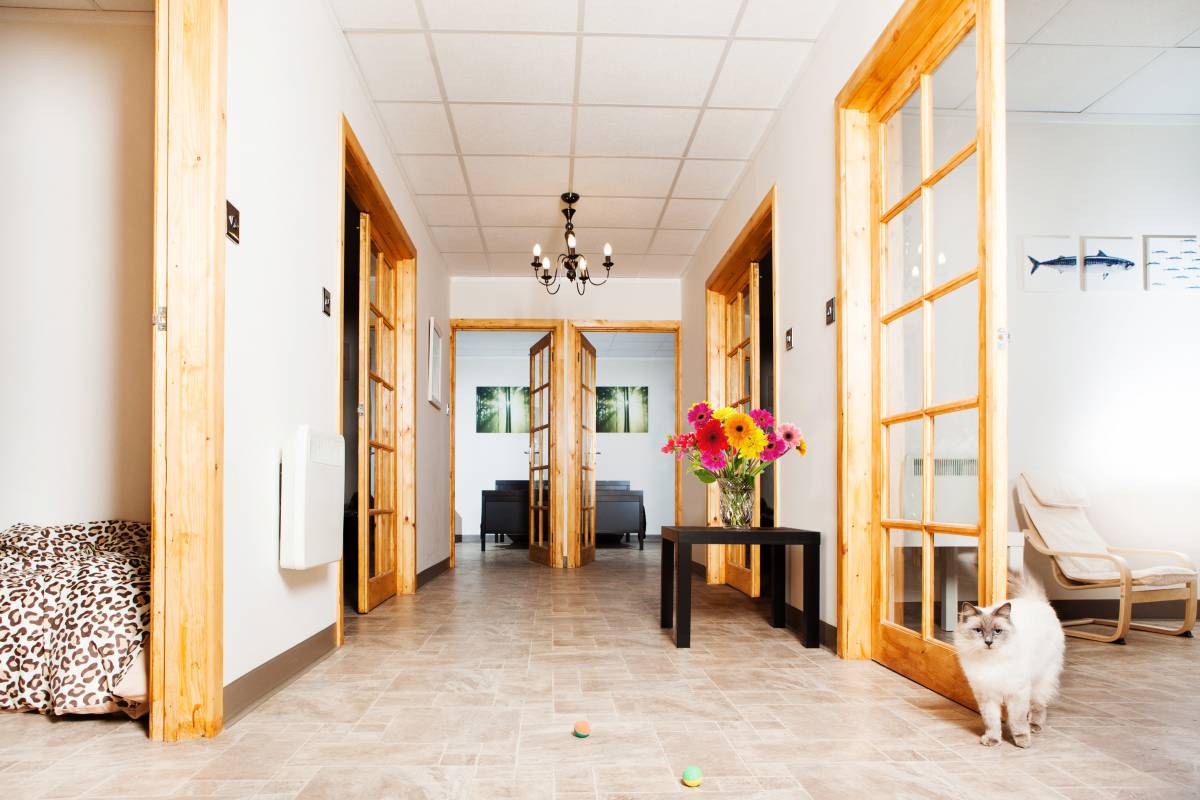 Hotel Cat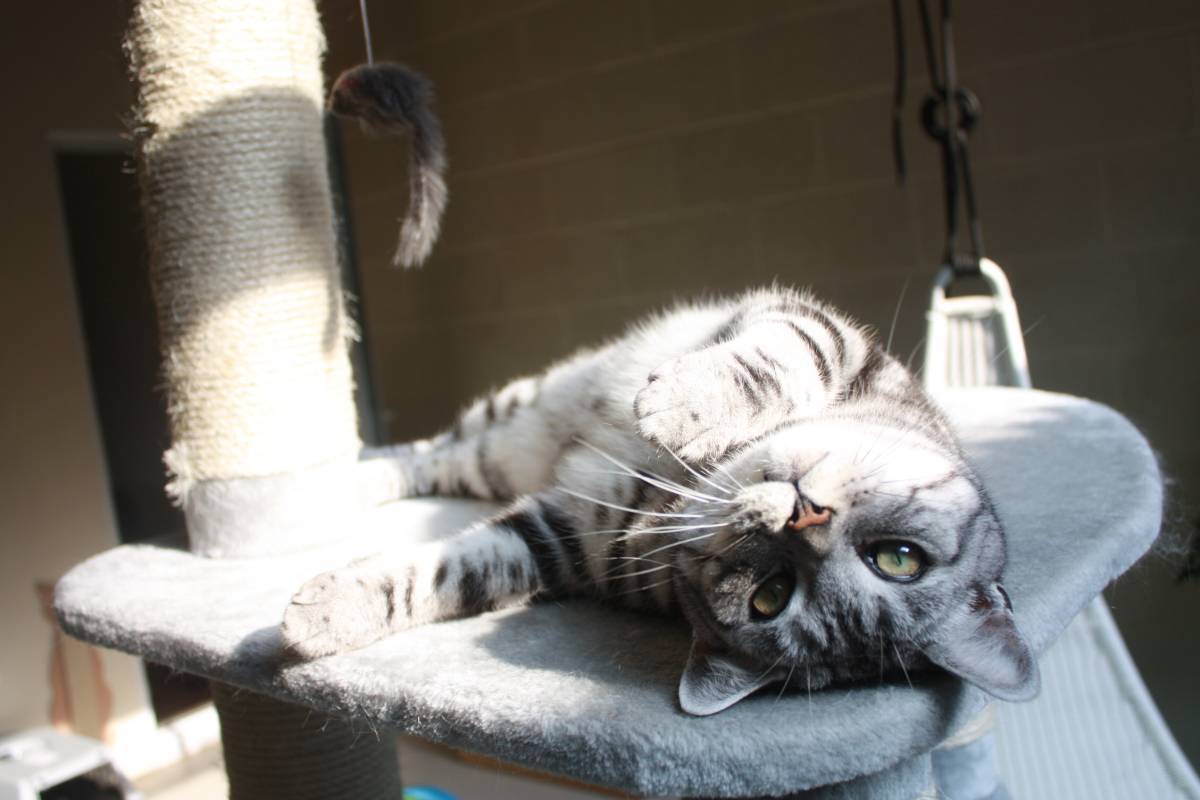 Our ducks and chickens wander around outside your cats window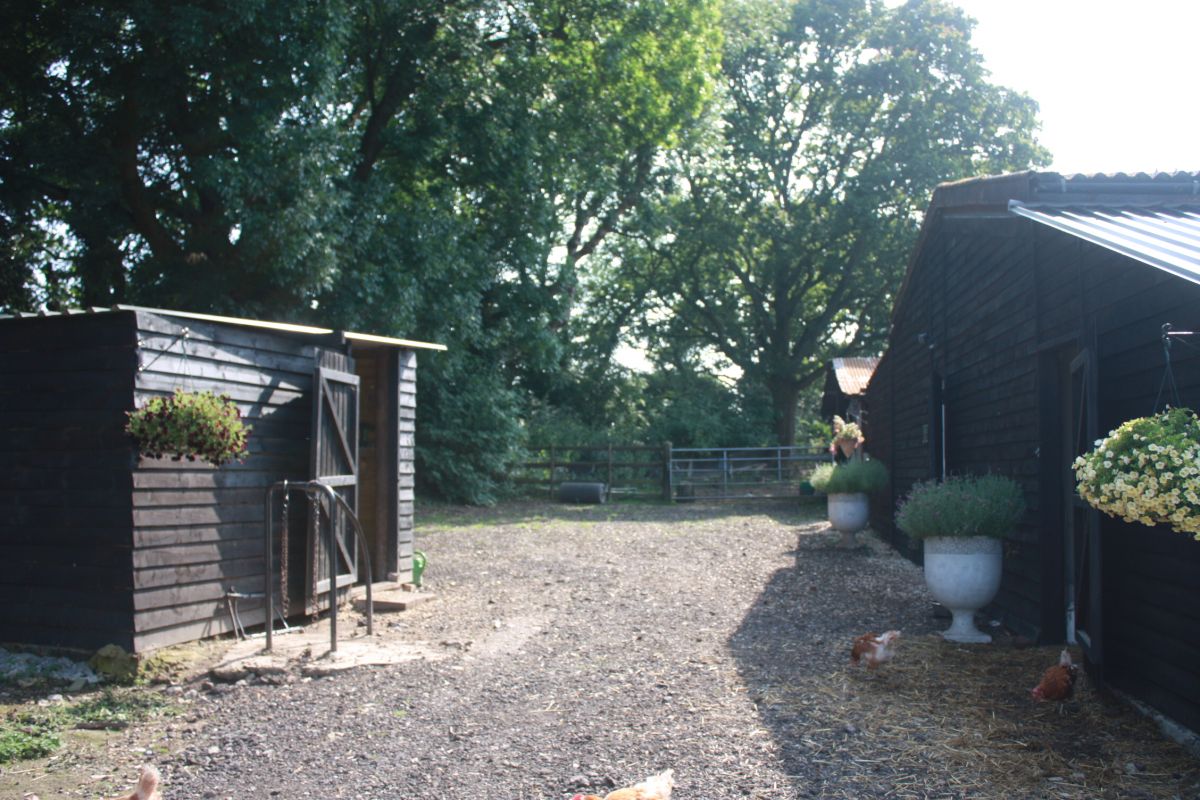 Hotel Cat from the outside, with the chickens wandering around.
Hotel Cat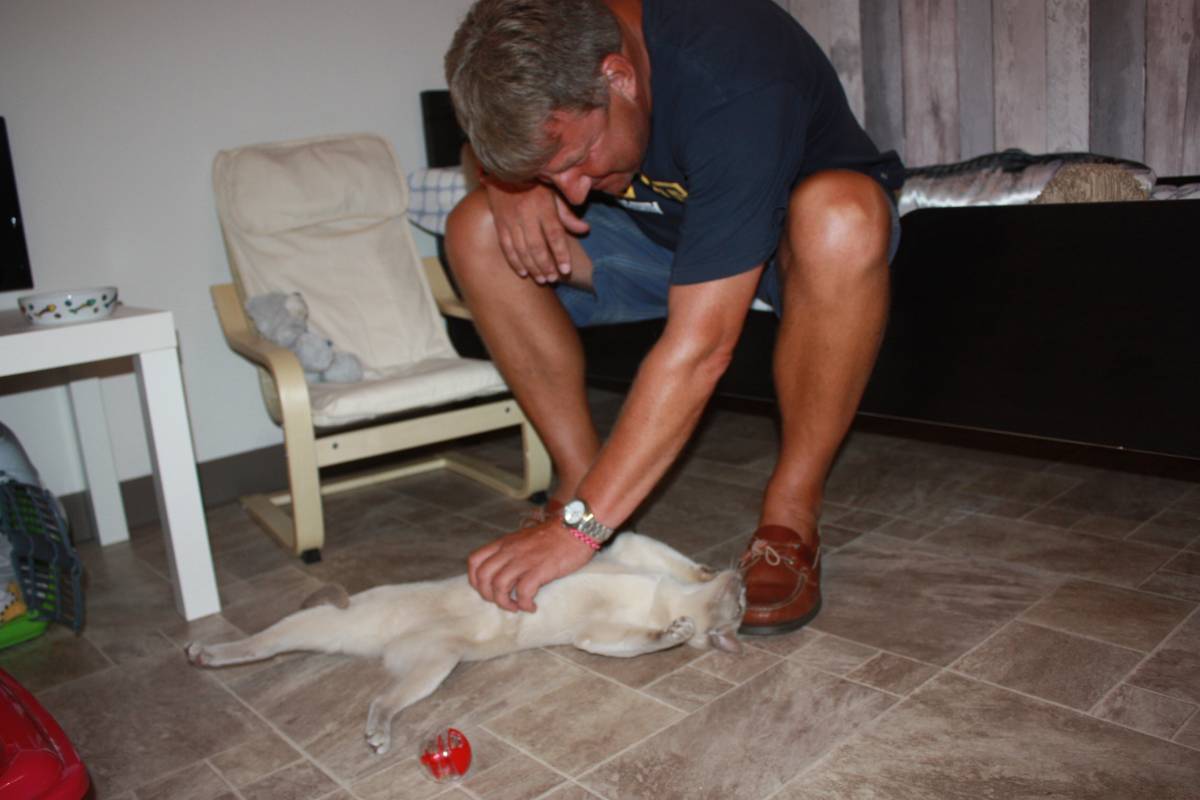 Tim meeting Tallulah for the first time. Tallulah was our first beautiful guest and stayed in the Beachcombers suite.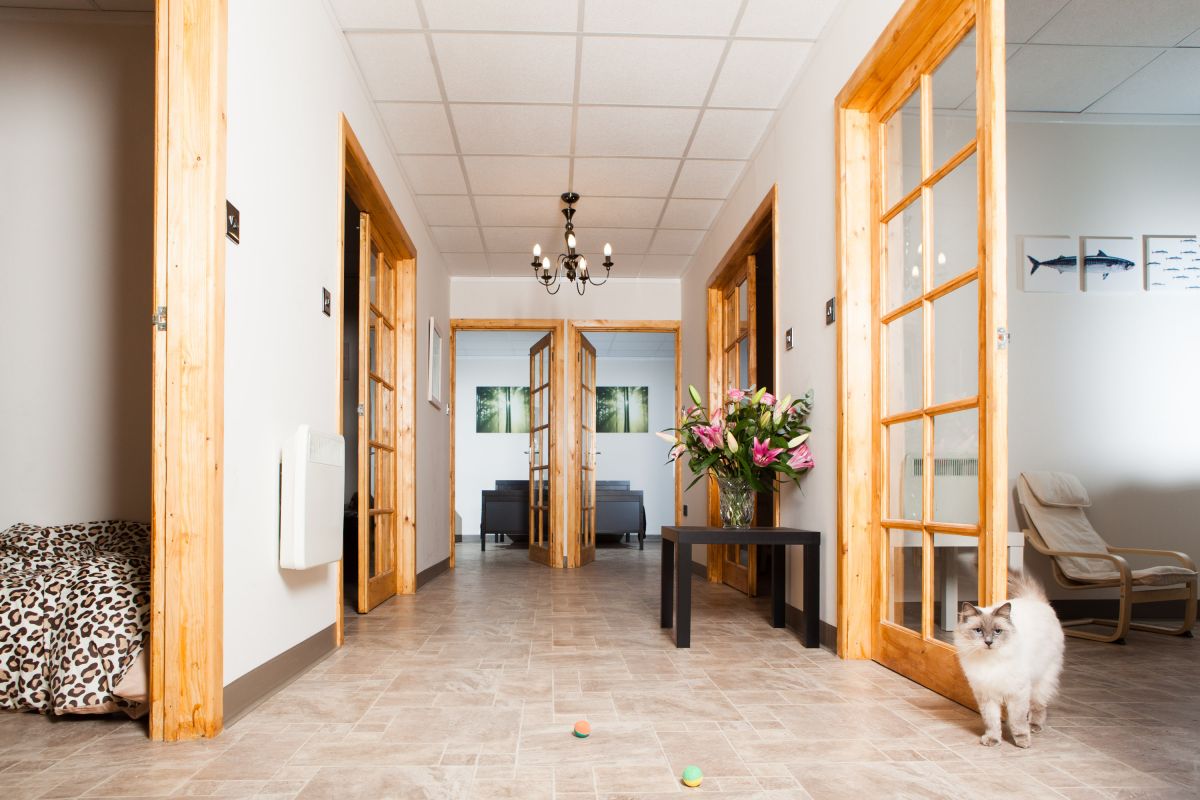 Corridor with Nou our own cat showing you around before opening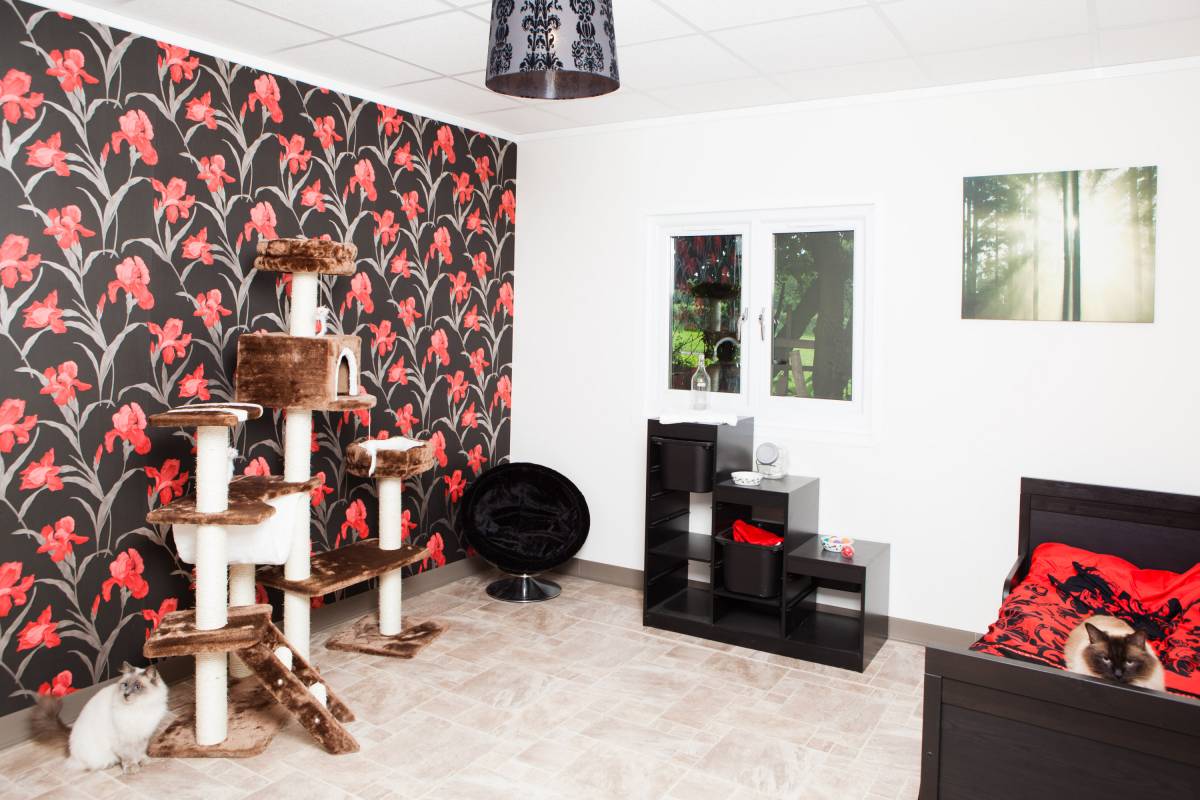 Royal Mews Suite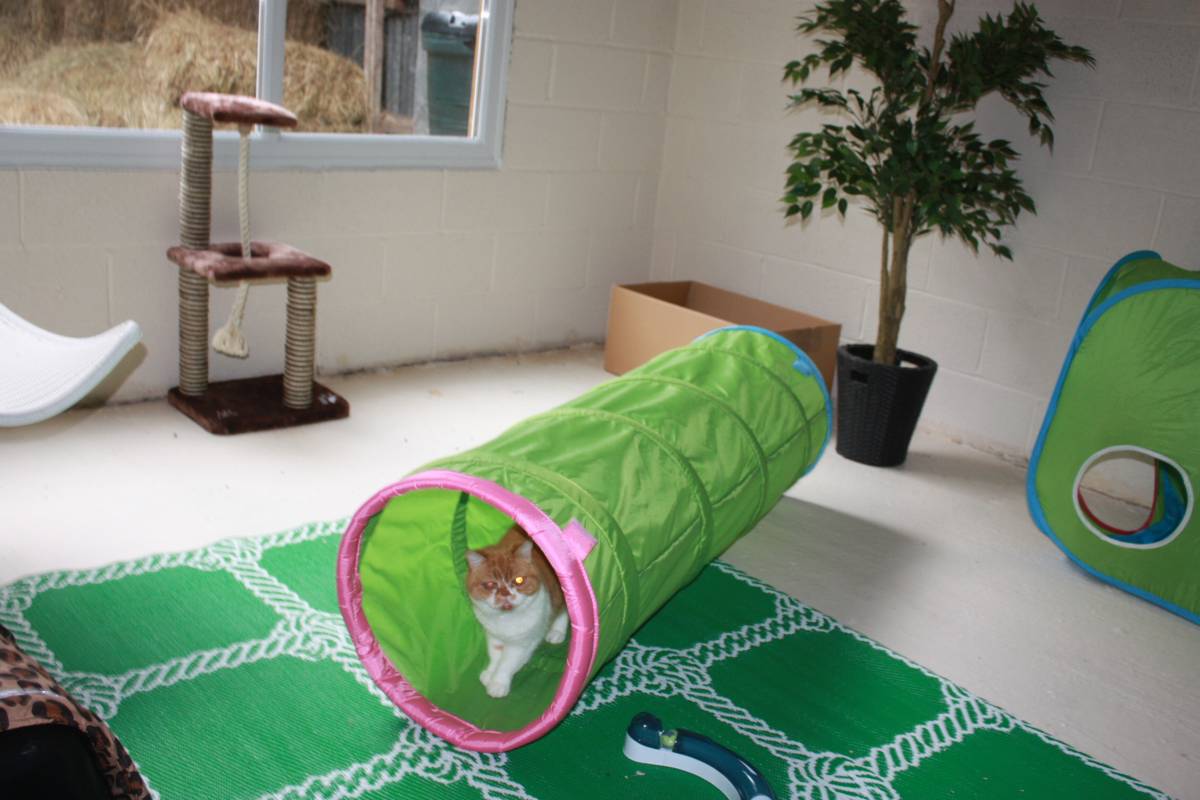 Garden room filled with toys!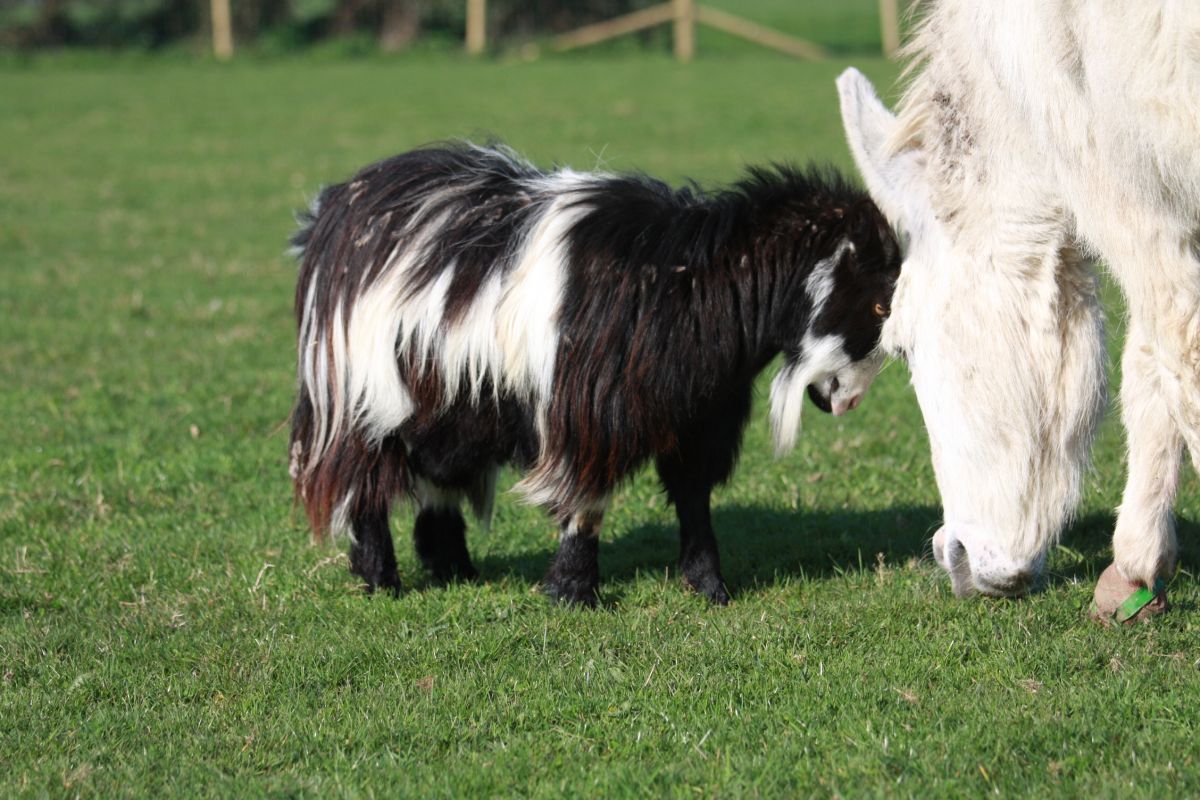 Your cat will be able to watch our gorgeous animals playing in the fields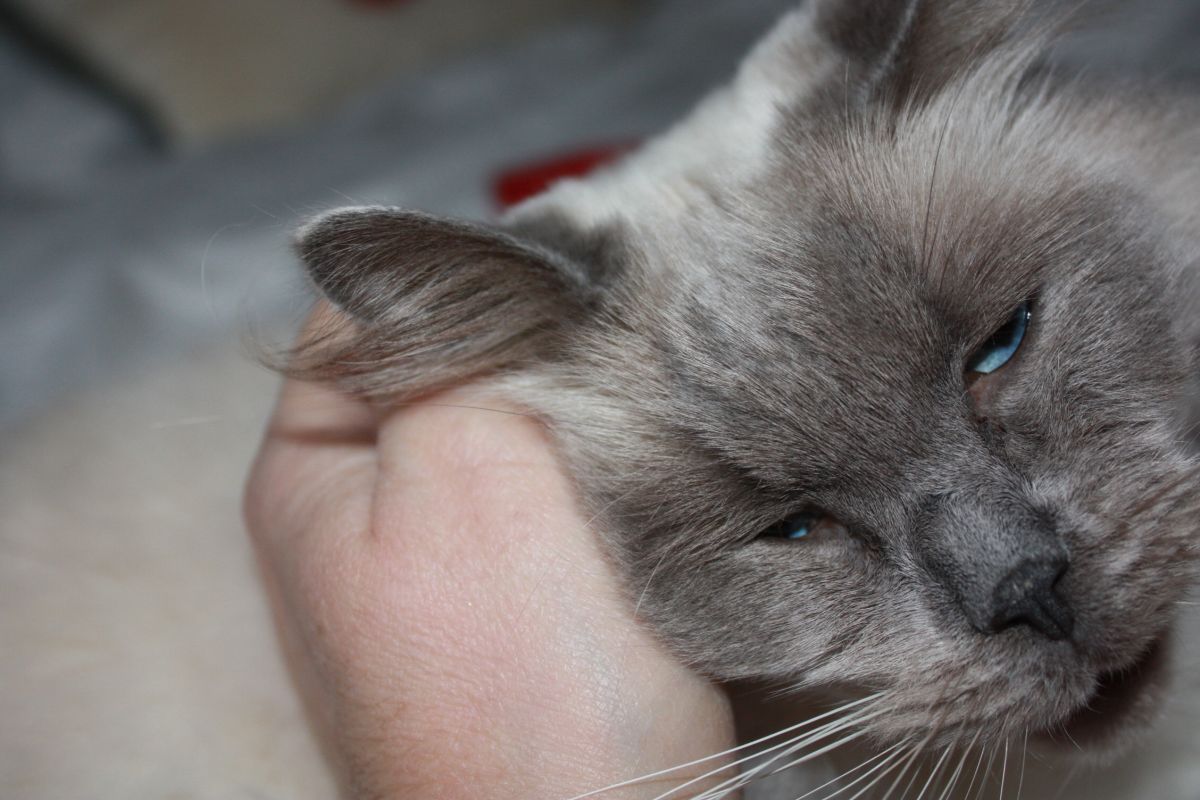 Cuddles are something we have plenty of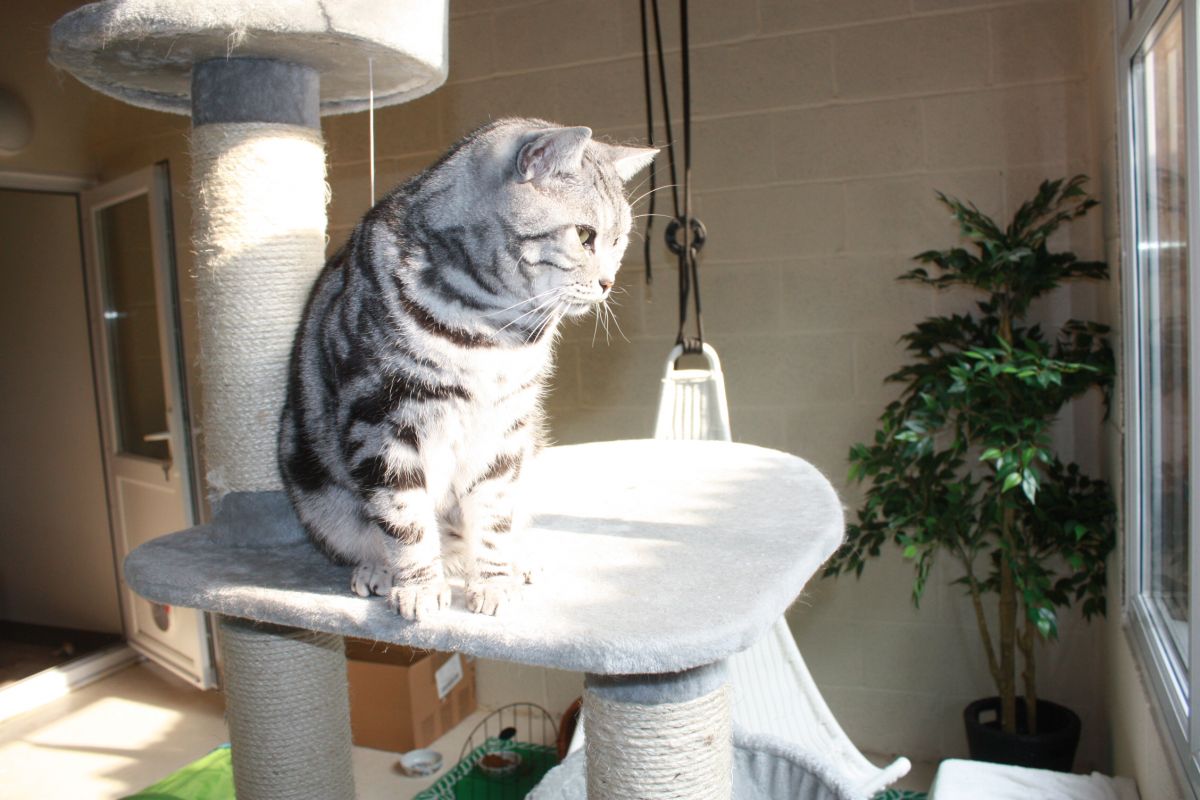 Bird watching
About Us




We're proud to say we are a cat only establishment.
This provides the most calm & restful environment possible for cats where there is no noise or proximity to dog boarding or kennels.





Welcome to Hotel Cat. We adore cats and are owned by three. Although they love each other, in a conventional cattery they would be too over crowded and would be stressed at having to live on top of each other. They are also used to sleeping on our beds, nestled into a warm duvet and wouldn't know how to use a 'cat size' bed!

We are the first ever cattery to use full size 'human' suites and full size 'human' beds. Our cats have helped enourmously in the build of Hotel Cat and throughly approve of the accommodation!

Each of our suites has been carefully and thoughtfully designed to ensure maximum comfort and minimum stress to each of our guests. We have no bars, mesh or wire, just full size glass doors and windows. We also have televisions and radios in each suite for after dark stimulation. During daylight hours your cat will be kept entertained by our many rescue animals which roam the fields outside the windows.

---

Opening Hours & Visiting

We are open 7 days a week, strictly by appointment only.

We are available on the phone between 9am and 7pm and answer emails during these hours too.

---

Staff & Knowledge

We have 2.0 full-time cattery staff.

Our staff ratio is:

1 Staff : 4 cat units

We have been involved in pet care for many years and are very experienced in animal behaviour. Jackie has passed regular courses in animal first aid and is experienced in giving all forms of medication.

We adore all animals and love seeing them happy, relaxed and comfortable. Our sole aim is for your cat to enjoy coming to see us and to leave having had a great holiday of their own.

---
Cattery Services
We have

7 Cat units


Our cattery was built in 2014 and licensed for up to 21 cats (maximum).

We're proud to say we have a maximum of 7 units in any one building.
(The ideal is a maximum of 20 units in a building, as the less cats, the calmer & less stressful it is for them)
We're proud to say we have a maximum of 7 units in any section of any building.
(The ideal is a maximum of 10 units per section)

---

Safety, Security & Protection

Our units are Indoor only and Walk-in style, built from:

Brick/block/stone:

UPVC:

Timber:

Metal:

Safety Corridor

We have double doors leading into our cat hotel. Safety is paramount and we always make sure that each suites doors are locked when we leave. As we do not have staff, there is no chance that doors could be left open, we double check everything.

Safety, Security & Stress Reduction

Units have Full height walls: , Full height doors: solid barrier, escape-proof ceilings: .

Units used ONLY for cats from the same family, and NEVER SHARED with cats from other households:

Are other cats obscured from view (they cannot directly see into adjacent units):

Hygiene, Disease & Injury Prevention

Sneeze barriers (disease & stress prevention):

Services

We offer a door to door cat chauffeur service. Our areas cover Hampshire, Dorset and London.

| Services for Cats: | | Other Services: | |
| --- | --- | --- | --- |
| Collect & Return: | | Pet Supplies: | |
| Professional Grooming: | | Kennels (Dog Boarding): | |
| Webcam Service: | | Small Animals Boarding: | |
| Sends updates while you're away: | | Stables: | |
Cat Accommodation
Sleep Areas

Sleep areas have

Radiator/heat panel

heating

Is there heating in EVERY unit:


Each of our suites are designed like a luxury human hotel suite. We have human beds, complete with duvets to snuggle up on. We have human furniture and televisions in each suite. We want to give your cat a luxury hotel experience of their own.

---

Exercise Runs

Attached runs: Covered runs:

24/7 hr access between sleep & run via a cat door:

Our garden rooms are a oasis of fun for cats. There are plenty of places to hide, play, run, sunbathe and sleep. It is a stimulating area with tunnels, seats, trees and climbing frames. Your cat is able to see what is going on outside via their large, double glazed window. We have many birds which are always on our feeders, including a resident woodpecker who adores our suet squares. Our ducks and chickens wander freely around our grounds and are very entertaining to our guests.

---

Unit Sizes Available

Our largest suite, The Royal Mews, is 13.2ft wide and 24.75ft long.

Our Moulin Rouge suite is 13.2 ft wide and 23.1ft long

Our Beachcombers suite is 9ft wide and 21.45 long

Our Savannah suite is 6.6ft wide and 21.45 long

Undersized:
ALL units have sleep areas of:
at least 3x3ft x 6ft high
AND...
ALL units have attached runs of:
at least 6ft long & 6ft high
At least 4 x 4ft x 6ft high:
At least 5 x 4ft x 6ft high:
At least 6 x 4ft x 6ft high:
Bigger:

---

Views from the Cat Units




Bird feeders directly outside the cat units:

We're proud to say we provide plenty of fresh air & a direct view of nature and the outdoors directly from our cat pens.
(This is essential for the cats' stimulation and interest, they need everchanging and fascinating things to watch from the safety of the cat unit for the duration of their stay)

---
Activities
Interaction with Staff

Cats get activities/play encouragement with staff:

We're proud to say cats DO get one-to-one interaction, activities and play with us here. We know how important it is (mentally and physically) for cats to play, chase, sniff, jump, run around and stretch their legs - but most of all to have personal relatationship with us. In other words, for cats to be cats!

Because we only have seven suites, we are able to spend all day playing, grooming and just being there for your cat. We are a family of animal lovers and running the cat hotel is all we do, this means that we are always there to cater for each individual cats requirements.

We have many toys and games for the inquisitve minds and many cuddles and soft words for the more sedate guests. Whatever your cats capabilities/needs, we are always here for them.

---

Cat Playtime & Toys

---

Hiding Places

Hiding places provided to feel safe, play & have fun:

---

Vantage Points - Being Up High

Are at least 2 shelves/platforms provided:
(including at least 1 that allows cats to stretch out fully)

---

Scratching Provision

Scratching post/mat provided:

---
Cat Care
Comfort Items & Settling In




Comfort items from home allowed:

We're proud to say we DO allow & encourage comfort items for cats . We know how important it is to help your cat relax and feel settled quickly, more at home with us. This is such an easy way to comfort your cat. After all, we all love our home comforts don't we!




Feliway Therapy used:

We're proud to say we DO offer Feliway therapy here to calm and reassure cats. We believe in doing as much as possible to help your cat have a happy stay with us, especially when such great, positive benefits to cat welfare can be provided so easily and simply.

---

Nutrition

Diet

Will feed the same diet as at home:

We're proud to say we DO offer to feed your cat the same diet as at home. We understand how important it is to help your cat settle in quickly and easily without any digestive problems that would be caused with a change of diet.

Will you feed special/prescription diets:

Will feed natural/organic diets:

Provide fresh cat grass:

Provide fresh catmint:

Water

Water & food kept at least 2ft apart:

For multiple cats (from the same family)...
Water & food kept at least 2ft apart from other cats:

---

Cat Grooming

All coat lengths/types groomed:

---

Cat Litter

| | |
| --- | --- |
| Litter trays kept at least 3ft/1m away from food & water: | |
| Litter tray per cat: | |
| Can bring own cat litter: | |
| Stock Worlds Best Cat Litter: | |
| Stock Cat Attract Cat Litter: | |

---
Cat Needs
Easygoing Cats

Care of easygoing cats:

---

Active Cats

Care of active cats:


All of or suites are huge. The bedroom/living room is a luxurious room with a 'human' bed and furniture which is all cat friendly. Your cat will be able to climb up our stepped units to eat, play or just pose! Each suite has it's own garden room which is absolutely full of cat activity pieces. From tunnels, playhouses, swinging hammocks, sun loungers to everyone's favourite the cardboard box, your cat will have plenty to occupy them. As we only have seven suites and myself, my husband and our two children (James 18 and Lucy 15) to look after your cats, they are guaranteed plenty of time and attention during their stay.

---

Big Cats & Large Cat Breeds

Care of big & large breed cats:

Due to the size of our accommodation your large cat will have plenty of space to run and play.

---

Timid & Nervous Cats

Care of shy & nervous cats:

We love to study body language, it comes naturally after spending a lifetime working with animals. If your cat is nervous we are very quiet and non-confrontational - we always wait until they are ready to come to us. There are plenty of places for them to climb up high and hide until they are ready to trust us. This is vital as a scared cat could injure themselves trying to avoid you. Because our suites are all so large your cat has plenty of space to move around us at their own pace.

---

Special Needs

Care for cats with special needs:

We care for cats with:

Age considerations:

Caregiving

Kittens 3-12 months:
Give tablets:
Senior Cats 10+ years:
Give drops:
Elderly Cats 15+ years:
Give injections:
Give Ointments:
Accept neutered cats only:
Professional weighing scales

| | | | | |
| --- | --- | --- | --- | --- |
| Allergies/ Allergenic | | | Ear/Eye Problems | |
| Arthritis/ Arthritic | | | Heart Disease | |
| Asthma | | | High Blood Pressure | |
| Blindness | | | Hyperthyroidism | |
| Deafness | | | Kidney Disease | |
| Diabetes/Diabetic | | | Liver Disease | |
| Digestive Problems | | | Pancreatic Problems | |
| Disabilities | | | Seizures/ Seizures/ Epilepsy | |
| | | | Skin Problems | |
22 Latest Guests
Latest Guests from our Gallery
4th Aug 2015


Treacle The Golden Oldie

We had the pleasure of the company of the lovely Teacle for the last five weeks. He is now 18 years old, but still has the energy for a gentle game when the mood takes him. His favourite pastime is to sit in his armchair watching the chickens throught the window. He has a much envied diet of fresh cod for both breakfast and dinner, with a tiny piece of smoked salmon on the side to disguise his daily pill!

See all 22 guests
Latest Video from our Gallery
9th Sep 2014: Beautiful guests at Hotel Cat


See all 2 Videos
Latest Customer Testimonials

0 Customer Testimonials
4 News Articles
Latest News

See all 4 News Items
Fees & Vaccinations
Fees for basic care package (includes water, food, litter, heating & any VAT/tax)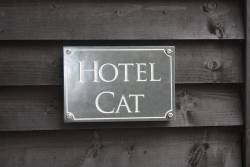 | | |
| --- | --- |
| Total for 1 Cat: | 19.00 |
| Total for 2 Cats: | 25.00 |
| Total for 3 Cats: | 31.00 |
| Total for 4 Cats: | 37.00 |
Further Information
---
Vaccinations
All of our guests must arrive with a current vaccination certificate. We ask that all of our guests are free from fleas and are regularly wormed. Thank you.
Contact Us, Map & Directions
Bookings, Queries & Appointments

Hotel Cat
Downlands Farm, Linnies Lane
Sway, New Forest
Hampshire SO41 6ES

Visit our website:


www.hotelcat.co.uk

Visit our Facebook page
Jackie will be happy to discuss your queries about Hotel Cat including bookings, availability, and making an appointment to visit.

Phone Jackie Ferrier
on 01590 681117

Please mention you found us on BoardingCatteries.org

---

Map, Directions, and Driving Distance/Time

Directions
Hotel Cat
Phone Jackie Ferrier on


01590 681117


please mention you found us on BoardingCatteries.org
www.hotelcat.co.uk